When you are in Toronto (or anywhere else for that matter) and you start researching about destination wedding locations, you should really seek out some general information about the regional location in addition to the wedding services you require. Here are some facts that we gleaned during our recent visit to Bali, Indonesia.
1) Bali is the smallest island, and a province of Indonesia.
2) It is located 8 degrees south of the equator. From east to west, the island is approximately 153 km (95 miles) wide and spans approximately 112 km (69 miles) north to south

3) The capital city, Denpasar is located in the southern part of Bali.
Image courtesy of the www.BaliToursimBoard.org.
pinthis
4) Most of the population follows the Balinese Hindu religion. However we've been told that it should not be confused with the South Asian or Indian Hinduism.
5) Bali hosted the APEC (Asia-Pacific Economic Cooperation) summit in October 2013. We were told that about 2000 delegates world wide attended. Due to the number of private jets and state airplanes coming into Bali, they actually had to close the airport to commercial flights for periods during the day.
6) They built their first toll road in Bali (Bali Mandara Toll Road or Nusa Dua-Ngurah Rai-Benoa Toll Road) to help minimize the traffic congestion that the APEC summit created. We've been told that to get to our hotel prior to the toll road being built, would have taken 20 minutes. Now the time has been cut in half. It stretches across the Gulf of Benoa 12.7 km in length. It opened in September 2013.
Image courtesy of www.Indonesia.Travel.
pinthis
7) The island is surrounded by coral reefs. Beaches in the south tend to have white sand while those in the north and west have black sand (containing lava since there is a volcano on the island).
8) Tourism is now the largest single industry in terms of income. Therefore, Bali is one of Indonesia's wealthiest regions.
9) When you speak with the locals, they will tell you that Bali is known for its artisans and their array of handicrafts, including batik and ikat cloth and clothing, wooden carvings, stone carvings, painted art and silverware.
10) There is only one international airport in Bali; The Ngurah Rai International Airport and it is located near Jimbaran.  We actually came through the new section of the airport during our visit. It is very modern compared to the older rustic part of the airport but the exterior still boasts its former charm.  The lower right hand pyramid like structure is reminiscent of the rice fields and actually the parking lot.
Image courtesy of www.flytalker.com.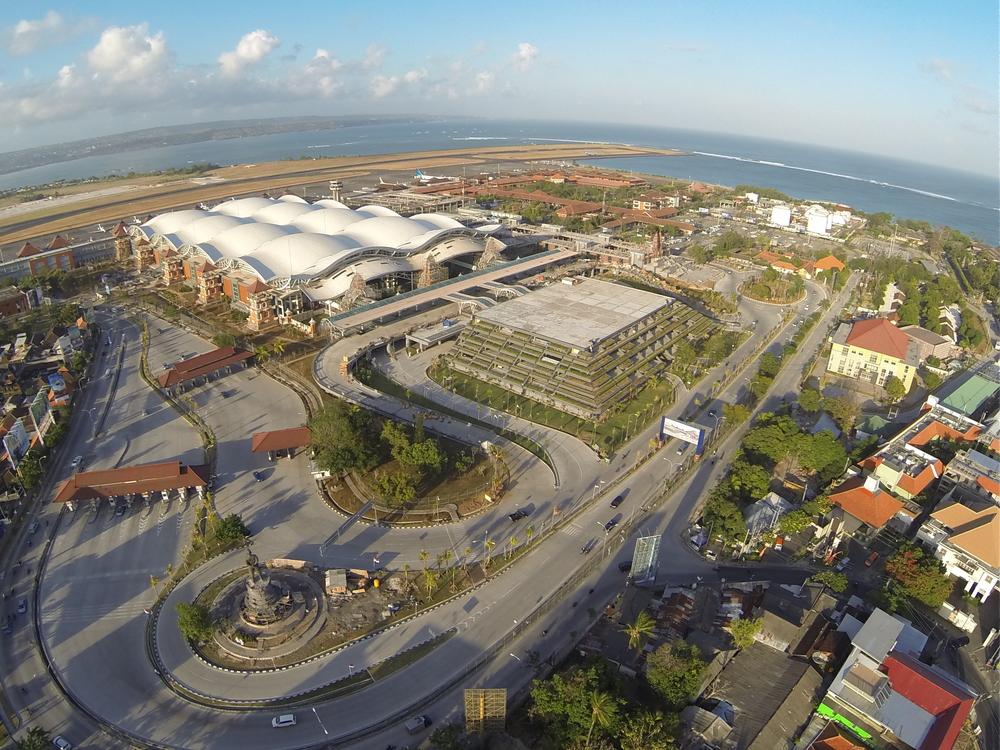 pinthis
//////////////////////////////////////////////////////////////////////////////////////////////////////////////////////////////////////////////////////////////////////
Wendy is a Toronto wedding planner who's specialty is East marries West weddings for Double Happiness
Whether you need wedding planning assistance or wedding day coordination, Wendy can help you design your most memorable wedding day. Contact her today, she'd love to hear from you.
/////////////////////////////////////////////////////////////////////////////////////////////////////////////////////////////////////////////////////////////////////